2015 was another record-breaking year for SPIE and Photonics West. More than 21,000 attendees converged on the Moscone Center; splitting their time between 1,266 exhibiting companies and more than 4,700 technical presentations. A special addition this year was the International Year of Light. Light-based technologies are transforming our world, starting at the source: manufacturing. We're able to operate smarter, more efficiently, and produce higher quality products. Those looking to harness these technologies head to Photonics West.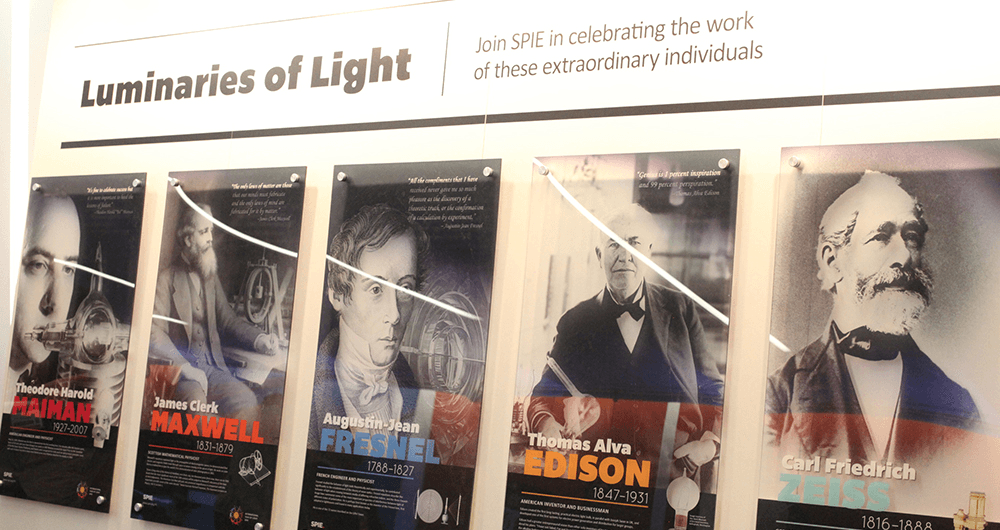 The International Year of Light was celebrated throughout the conference; reminding attendees of the importance of what they do and how their contributions shape our daily lives. Compelling photographs that highlighted important light-based technologies and historical figures were on display throughout the Moscone Center; they lent an inspirational air to the conference.
Each attendee received the book "Celebrating Light," which features 50 ways light-based technologies enrich our world. It's packed with beautiful imagery, inspiring quotes, and insightful explanations of the technologies that shape our lives. It's a wonderful takeaway that we're eager to share with our colleagues. Below is a peek at a couple of our favorite sections.
Aircraft Safety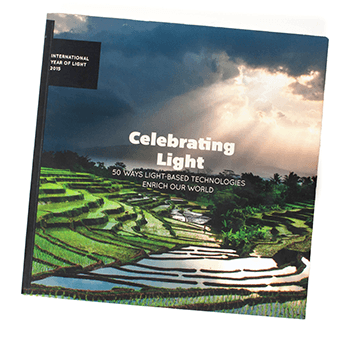 Light-based technologies are widely used in the aerospace industry and are crucial components to safety. Gyroscopes enable us to track an aircraft's position and orientation while GPS systems help us determine its exact location in the world–ensuring you safely arrive at your destination. One lighting technology not mentioned, but dear to us at Kopp Glass, is aircraft and airport lighting. At airports around the world, pilots and air traffic controllers rely on these lighting systems to safely guide them on and off the ground.
Disease Understanding and Treatment
Light-based technology has radically changed medical diagnostics in numerous ways. Tiny, disposable cameras, once swallowed, let doctors see into our bodies. Together with digital radiography, we have a better understanding and view of our innermost workings. These technologies are rapidly evolving–becoming portable–and being brought to remote areas to improve public health.
Factory and Lab Automation: Technologies and products that make it possible

The Photonics West exhibition did not disappoint; it was jammed pack with innovative technologies and products. The components that enable factory and lab automation were represented on the exhibit floor: more sensitive sensors and detectors, ultrafast lasers, machine vision cameras, power controllers, and more. Manufacturers look to automation as a means to meet productivity and efficiency goals. At the same time, they must be able to deliver high quality products. To do this they need technologies that will help them improve process control.
On display were numerous spectrometers that can easily be integrated into existing processes and equipment, either fully customizable or available turnkey. Manufacturers, like Ocean Optics and BaySpec, are making them more rugged and flexible so that they can fit into diverse applications, ranging from testing raw material uniformity in pharmaceutical manufacturing to remote crop monitoring by UAVs.
The UV LED Evolution
A growing number of exhibitors were featuring new, and improved, UV LEDs. However, the excitement surrounding UV LEDs and their diverse, beneficial applications is tempered by several challenges that prevent mass market adoption. The most pressing concern is efficiency droop; most UV LEDs in the UV-B and UV-C range can only claim 3-8% efficiency at this time. In the technical sessions, researchers from Nichia Corp., Sensor Electronic Technology, Inc., and Crystal IS, among many others, presented manufacturing techniques and materials that aim to improve efficiency and reliability issues.
The UV LED sessions were well attended and prompted numerous questions from the audience. As UV LEDs and technologies become more mature, manufacturers are looking to harness the power of UV light and to integrate UV LEDs into an increasing number of products. They're being used in applications ranging from germicidal UV LEDs in home appliances to UV curing to ultrasensitive gas detectors for chemical manufacturing plants. We'll discuss this research and new applications in greater depth in our next blog post.
3D Printing: A Manufacturing Revolution
Photonics and lasers form the backbone of additive manufacturing (also known as 3D printing) technology and its growing adoption can be felt throughout the photonics industry. The panel discussion "3D Printing: A Manufacturing Revolution" focused on the future of additive manufacturing and how it will impact the photonics markets. At the forefront of the discussion was the use of 3D printing in the aerospace industry.
The aerospace industry has been an early—and eager—adopter of additive manufacturing. The pressure to create lighter aircraft, faster, has propelled companies like GE to use additive manufacturing to produce complex parts. Additive manufacturing excels at taking the complex and simplifying it. The panelists see this ability as a core driver for the adoption of additive manufacturing.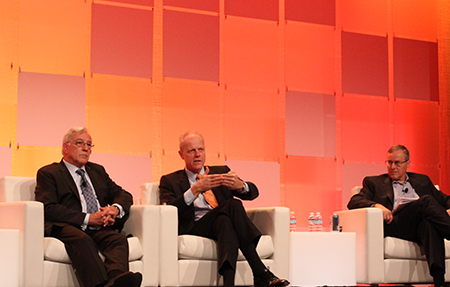 However, the audience seemed more concern with addressing quality issues. While there are 3D printed aircraft components flying in the air, improvements need to be made before they can be used for critical structural components. Jim Williams, 3D Systems, indicated that they are being proactive about addressing quality issues and are surrounding the issue from all sides. Some manufacturers are already incorporating integrated optical tomography sensors into their printers to monitor quality during production, which could be a big opportunity for the photonics industry.
3D printers can produce composite components with embedded electronic sensors, transforming how we collect data in the field. They're envisioning applications such as in the leading edge of an aircraft wing. The opportunities are endless and it will be exciting to see how additive manufacturing impacts not only the photonics world – but our everyday lives.
Each year we look forward to attending and exhibiting at Photonics West. It's an opportunity to engage with our customers, stay abreast of industry trends and research, and to enjoy a little sun. 2015 was another successful year and we're eager to begin working on several new projects. Stay tuned for several blog posts that dive into new UV LED research, technologies, and applications.