Recent developments in UV LED technology, especially in UV-B and UV-C regions, are leading to rapid adoption in applications such as sterilization, horticultural lighting, medical phototherapy, and UV curing. UV LEDs are known to offer significant energy, cost, and space savings when compared to traditional lighting technologies such as mercury vapor or high-pressure sodium bulbs. However, designing with UV LEDs brings an entirely new set of challenges. The essential first step when designing a new device is to evaluate and select an optimal UV LED that meets application requirements.
With hundreds of UV LED's available, researching and comparing the various options for your project is tedious and time-consuming.  To streamline the selection process, Kopp Glass has compiled a database of over 700 UV LED products from 29 manufacturers--including products from industry leaders such as Seoul Viosys, LG Innotek and Rayvio.
This database provides specification data on: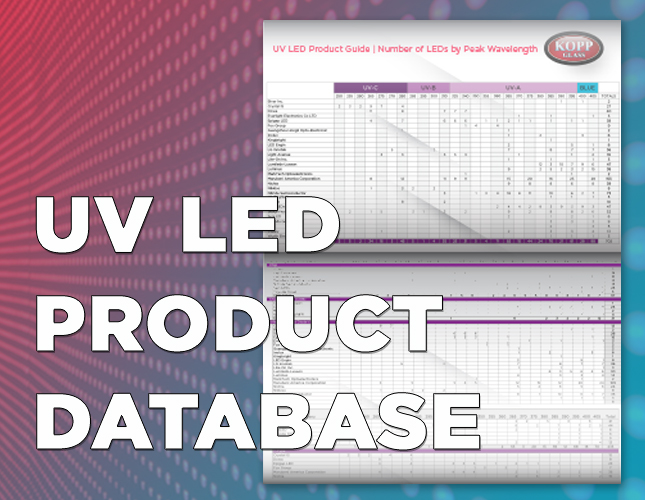 Peak Wavelength
Product Type (Chip, COB, SMD, T-Type)
Product Code
Radiant Flux
Forward Current
Forward Voltage
Emission Angle
Download the UV LED Product Guide here.
" Every application comes with its own unique set of requirements and performance goals. When you are selecting an LED for a new product you need to take into account parameters such as peak wavelength, viewing angle,  and optical power. As you move forward and incorporate optical elements, all of this information is needed to create an optimized optical design that will achieve the performance goals for your application," says Dr. Justine Galbraith, Glass Engineer at Kopp Glass.
There are many reasons why you should choose to use UV LEDs when designing a new product. When evaluating options to select an appropriate LED, key questions to ask are:
What is the peak wavelength of my application?
What beam angles are available for LEDs at the wavelength of interest?
What optical power output is required for my application?
Alleviate the need to spend valuable time scouring dozens of websites to find the LED best suited for your application and performance goals. Refer to the guide for the vital details needed to make pragmatic decisions when choosing an optimal LED. Although Kopp does not manufacture LEDs, we have over 90 years of expertise in manufacturing custom glass products that are used to optimize light output, resulting in differentiated, high-performing lighting products.