The lighting industry continues to evolve; the invention of the blue LED ushered in a new era of lighting. Now, advanced sensors, more efficient light sources, and Power over Ethernet (PoE) enable the development of smart lighting systems that can control light to improve productivity, safety, and our health. It's an exciting time to work in the lighting industry and the Smart Lighting track was a welcome addition to Strategies in Light 2015.
Strategies in Light 2015 started with a bang; rapid technology and material advances have accelerated LED market adoption, much faster than originally anticipated. During the plenary session "How Big Can the LED Lighting Market Get?" Philip Smallwood presented Strategies Unlimited's market assessment; they predict that by 2022 half of the residential market will be replaced by LEDs, as of now only 5% of the market has been penetrated. In 2014, the global shipment of LEDs constituted 5% of the lighting market; this is expected to increase to 28% by 2018 and to 52% by 2022. Although more LEDs will be used, the market itself will shrink from 14.6B LEDs shipped to 8.5B LEDs shipped. The LED lighting market will peak between 2018 and 2022 and then level off after that. LED tubes most likely will not peak at that time and continue to have consistent market relevance well past 2022.
Surprisingly, they found that LEDs are replacing tube lighting fluorescents at a much higher rate than originally expected. More halogens are being replaced in Western Europe than in North American, where the primary light source being replaced is incandescent lights.
LED adoption is increasing but to better penetrate resistant markets manufacturers need to overcome several lingering challenges, these were discussed in the presentation "What's Next for Solid-State Lighting?"
LED lifetime and reliability
The industry still lacks a standard way to rate the lifetime and reliability of LEDs. James Brodrick says that performance can vary greatly from one manufacturer to another. The industry is working to correct this; last September, the LED Systems Reliability Consortium (LSRC) published the third edition of the guide "LED luminaire lifetime: recommendations for testing and reporting."
Color quality
Unlike incandescent lights, LEDs do not produce consistent color ranges. To make LED selection even more difficult, current measurement techniques and standards aren't suited for LEDs and can be misleading to users. Color often shifts over time and this can impede adoption in some color-sensitive applications.
Efficiency droop in high and mid power LEDs
In the presentation "LED Innovation: What Does the Future Hold?" Dr. Jy Bhardwaj stated that droop impacts both high-power and mid-power LEDs. To improve efficiency, he says, manufacturers need to improve carrier spreading to more quantum wells and improve the recombination rate to reduce carrier density per quantum well.
Despite these challenges, the market is growing and LED adoption will continue. As manufacturers work through these issues, they're simultaneously exploring ways to transform lighting from a socket filling business to one that provides additional value to buyers. Better controls, accurate color tuning, and connectivity are opening new doors for solid-state lighting.
The Next Phase of the Evolution: Smart Lighting
The Smart Lighting track explored the way that people interact with the environment; how light can be manipulated; and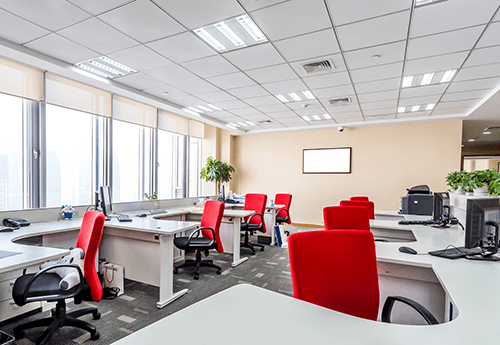 the technologies that promise to make the world a more productive, safer, and healthier. Sensors integrated into luminaries, cameras, and other devises have the potential to collect massive amounts of data; they can capture thermal images; monitor ambient light levels; record temperatures and humidity; and track room occupancy and usage.
By 2020, LED fixtures in offices are predicted to increase by 50%. Instead of simply installing "dumb" lighting systems, facility managers are looking for smart solutions that will help them reduce operational costs. In the presentation "The Chaotic World of Smart Lighting," Tony Shakib, Cisco, discusses the development of "digital ceilings." Previously, lighting, security, phone, and HVAC systems operated independently, now, these critical infrastructures are converging through Internet Protocol (IP).
LEDs require less power than traditional light sources and are able to draw power from Ethernet cables instead of expensive, high-voltage AC conduits. Lights equipped with sensors on a Power over Ethernet (PoE) system can pass data between each lamp and funnel data to the cloud. Through advanced data analytics, facility managers can develop more efficient building control systems that reduce operating costs up to $0.03 per square foot.
Beyond saving money, intelligent lighting systems can help us create more pleasing environments and experiences. Lighting that is equipped with sensors to collect thermal traffic patterns can tell business owners how shoppers move through their stores and where they spend more time. In response, displays and products can be moved to best suit their needs and enhance the shopping experience. Shakib says that using smart lighting and cloud analytics to create the optimal user experience can increase revenue by $100 per square foot.
The possibilities are endless; the digital ceiling and smart lighting can be used by schools to create an environment that helps keep students focused; improve patient care in nursing homes and hospitals; and increase security through monitoring building access points.
New Technologies – Similar Challenges
While it's exciting to talk about the seemingly endless opportunities and benefits that smart lighting can offer, several speakers at Strategies in Light examined the challenges that stand in the way of this evolution.
Sensor technology is rapidly advancing and getting smaller; sensors are being integrated into an increasing number of objects. In 2012 only 0.6% of data using objects were connected to the cloud; by 2020 it's going to increase to 2.7%. Concerns related to data security and privacy are increasing. In his presentation "Exploring and Addressing Security Risk in Smart Lighting Systems," Paul Jauregui, Praetorian, discusses vulnerabilities found in current lighting devices, networks, and controls. Lighting companies need to ensure that network-connected devices are protected from unauthorized access and that user data is secure. As the Internet of Things infiltrates and transforms our lives, buyers need to be aware that the same security protocols that they use for their computers apply to other connected devices.
The lack of standards in the lighting industry transcends into smart lighting as well; mass adoption will be slow if there isn't a greater push for standardization. Standards are needed for sensors, controls, infrastructure, and luminaire designs; without them, software may not be able to control them. Disparate and proprietary software architectures also make it more difficult to bring different system controls together. For there to be real momentum with smart lighting technologies, there needs to be a greater push for standardization and for an open-source IoT-based software platform.
Lighting is everywhere; it's an essential part of our lives. The next step is to transform lighting into intelligent, responsive systems.