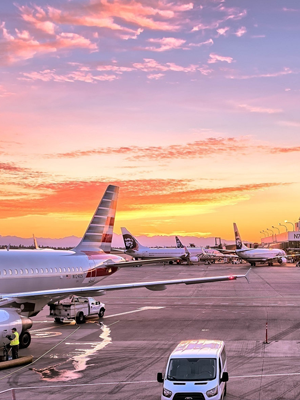 Every fall, the Illuminating Engineering Society of North America Aviation Lighting Committee (IESALC) holds an annual conference that brings together a diverse group of airfield lighting professionals, including; FAA officials, pilots, airport maintenance specialists, testing facilities, and airfield lighting equipment manufacturers. This committee is dedicated to safely – and efficiently – guiding aircraft in and out of airports year round. We were pleased that we could attend as it's a great opportunity to discuss the challenges that the industry faces, possible solutions, as well as exciting new technologies. At this year's conference, the technical program focused on developing intelligent airfields using smart, connected products; addressing frangibility requirements; reducing maintenance costs; and discussing issues related to LED adoption.
Using Intelligent Products to Make Better Airports
We're in the era of big data and connectivity; where new technologies are creating products that intelligently interact with us. Embedded sensors, processors, and software capture an enormous amount of information, transmit it effortlessly, conduct comparative analyses, and store it for future access. Smart, connected products help us make better, more informed decisions; operate more efficiently; and ultimately improve safety. It's not surprising that the aviation industry is seeking to integrate these technologies into new products and processes. Many of the presentations at IESALC discussed smart products that are being developed for the aviation industry. Below are some that we think may have the biggest impact.
"Follow-the-Green" Dynamic Lighting
Dynamic lighting that uses sensing technology is being developed to signal aircraft pilots through taxiways in an effort to minimizing miscommunication on the airfield. This simple visual approach seamlessly communicates the route to the pilot by automatically turning on the green taxiway center lights in sync with the aircraft's location, speed, and destination.
This leads to less route deviations, fewer stops, shorter landing and take-off (LTO) cycles, and cost savings through fuel reduction. Safegate plans to conduct testing to validate the "Follow-the-Green" approach in April, 2015.
Sensors + RFID Tags for Smarter and Cost-efficient Maintenance
Integrating sensors and radio-frequency identification (RFID) tags into lighting fixtures will enable maintenance teams to easily monitor fixture health. Embedded sensors monitor power consumption and when they detect subpar performance below specification, they alert maintenance crews that the fixture needs to be serviced.
While RFID tags are nothing new; several presentations discussed how their integration could improve maintenance repair times by helping crews quickly locate broken fixtures. Instead of combing the airfield or cross-referencing maps; they would be able to easily find it, fix it, and then digitally record the maintenance repair using a PDA or tablet.
NextGen Navigation Update
NextGen navigation systems have been on the forefront of intelligent design discussions in the aviation industry. Satellite-based navigation tracks aircraft more accurately than traditional radar systems. Precise location information allows controllers to safely and more efficiently coordinate travel through the airspace. This technology would also be an invaluable tool to help locate aircraft when they crash. The FAA is making progress with NextGen implementation and indicated that the target completion date is still 2020.
Similar to how electronics defined the 20th century, intelligent technologies are revolutionizing our world. New technologies are rapidly being developed, tested, and exchanged across industries. The retail industry has been exploring Beacon Technology and using it to transmit contextual content to users based on their location. It's now making a debut in some airports to guide passengers and to provide customer support. SITA and American Airlines recently launched a Beacon Technology pilot study at Dallas/Fort Worth International Airport. A beacon mobile app helps passengers locate terminal and gate locations and alleviates the stress that many feel when traveling. This is really just the beginning of how connected technologies can shape the aviation industry.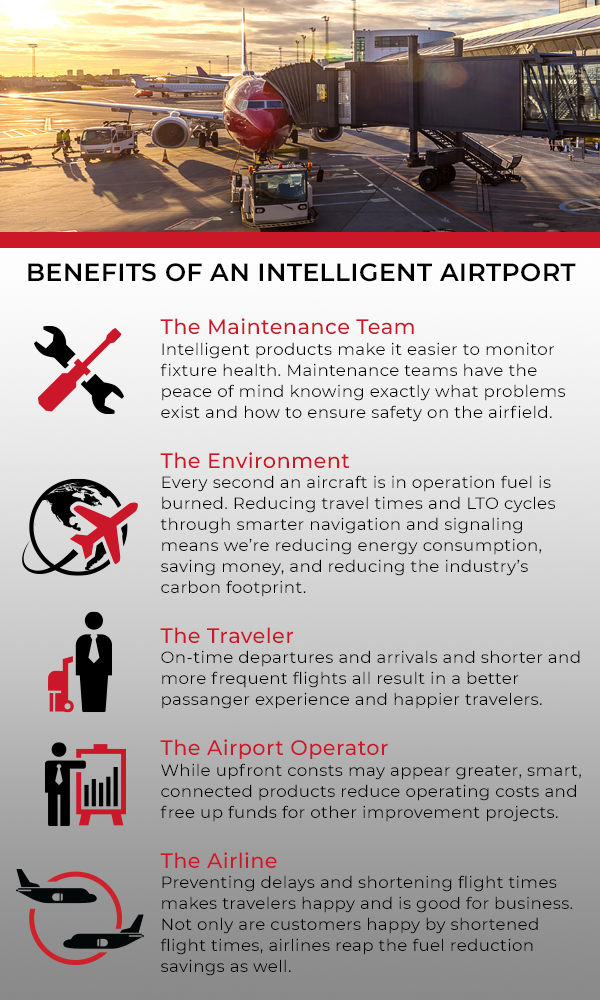 Smart airports are focusing on products that result in greater efficiency, improved safety, and a better passenger experience. Intelligent products create added value that brings benefits to everyone who traverses the airfield, from the traveler to the maintenance team, to the airport operator.
LED Visibility Concerns
LED adoption in airfield lighting gains momentum each year. While LEDs have been around for almost a decade and the technology has matured, several issues still need to be addressed. Some pilots conducting operational testing on LED approach lights are reporting visibility issues related to the perceived brightness of LEDs – claiming that they're too bright, almost blinding. However, others are reporting that there isn't a noticeable difference.
This issue can be traced back to current photometric measurement tests and standards that were developed for incandescent lights. During the presentation, "Are Current Photometric Tests for Lights Valid for LEDs?" Jean Paul Freyssinier of Rensselaer Polytechnic Institute (RPI) explained how LED technologies present several challenges for airport lighting and cannot be tested the same way incandescent fixtures are. We'll discuss this issue in greater detail in an upcoming article. It's a serious concern and until new measurement tests are developed, adopters of LEDs should proceed cautiously and stay informed of emerging research.