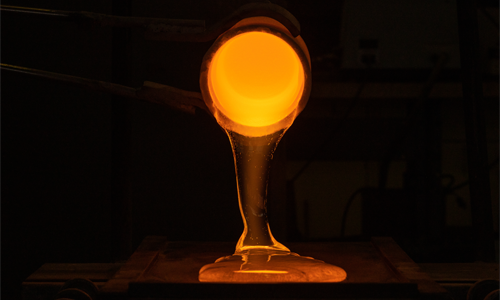 Differences in individual glass melting practices are driven by the scale and scope of the manufacturing, the glass composition needed, the downstream processes involved, and the ultimate product quality required. In this article, we'll review two common glass manufacturing methods: continuous and batch melting.
As with any manufacturing process, glass melting can be broadly subdivided into batch and continuous processes. Both of these processes can be used to manufacture common glass compositions, such as borosilicate and soda lime silicate glasses. The best glass melting process for your product depends on many factors, such as volume, speed, flexibility in design, and costs. We'll take a look at these two manufacturing processes, and discuss when each should be considered.
Continuous Glass Melting Process
A continuous process has a "beginning" and an "end;" raw materials are fed into the front of the furnace, and molten glass is removed from the end. As the glass passes through different zones within the furnace, specific steps in the melting process are performed.
 Continuous Process Advantages:
High throughput: glass is always being made, and finished product is always coming out of the furnace.
Conducive to automation: this can translate into lower costs when large numbers of product are required.
Best for:
Long runs and high volumes (100-500  tons/day) of the same or very similar formulations of glass.
Limited number of color or compositional changes between products.
Types of Products Typically Produced by Continuous Melting:
Food and beverage containers.
Architectural glass.
Insulation and reinforcing fiberglass.
Consumer products, such as TV and smartphone screens.
Batch Glass Melting Process
In a batch process, all raw materials are added at one time, as opposed to being continually fed into a furnace.  The glass is melted in a single vessel or furnace, which is sometimes called a "day tank." Once the glass is melted, a portion of the glass is removed from the melting vessel and is formed into a product. This step is performed multiple times until the vessel is empty, which marks the end of that batch.
 Batch Process Advantages:
Nimble manufacturing process: easy to scale up and down to customer demand.
Flexibility: multiple formulations can be melted with the ability to minimize cross-contamination between different glass compositions.
Best for:
New product development due to simpler process control and smaller scale. Melting parameters can be customized and adjusted easily to shorten the new product development cycle.
Short runs of a wide variety of glass formulations and colors.
Short lead times for uncommon or custom glasses.
Small - medium volumes ( 0.5 – 2000 pounds).
Types of Products Typically Produced by Batch Melting:
Aircraft lighting lenses.
Molded filter glasses.
Custom molded lenses for industrial and signal applications.
Finding the Right Glass Manufacturer for Your Product
The best glass melting process for your product depends on many factors. Whether you are making containers, aircraft lenses, or optics for industrial lighting, there is a method best suited for your product that will provide the quality and price you need.
However, determining the process best suited for your product isn't always easy. Below are some questions that you should consider when selecting a glass manufacturer.
What are my volumes?  Do I need 200 or 200,000 parts?
Does the demand for a finished good suit the size, scale, and cost needed for a continuous process?
Do I need a common glass composition like soda lime silicate or do I need an uncommon, unique glass composition, such as a UV glass?
What shape or form is my product? If it's a 3D form, is it best to fabricate a flat piece of glass or should I consider molding it? If it's flat, should I use float glass?
How soon do I need my glass?  How long can I wait for my glass to get into the production queue?
The answers to these questions can help you select a glass manufacturer that is best suited for your product. Communicate with your glass manufacturer to understand their process and to ensure alignment with your requirements.