SAE International plays a critical role in the aerospace industry. However, many are unaware of their contributions and how they've helped shape aircraft lighting. In this blog post, Darin Bernardi highlights the organization's role and ten publications that they released in 2014.
The need for international performance and safety standards is increasing as a result of emerging new technologies and progress in worldwide trade liberalization. Since the early 1900's, SAE International has developed standards and recommendations for engineers in the automotive, aerospace, and commercial vehicle industries. Access to this information has helped advance the collective intelligence of the automotive and aerospace engineering community and allow manufacturers to safely adopt new materials and technologies.
The aircraft lighting industry is guided by standards developed by the SAE A-20 Aircraft Lighting Steering Committee. They are responsible for developing standards for all aspects of aircraft lighting equipment, from its design and manufacture to operation and maintenance. SAE's membership is comprised of individuals from aircraft component manufacturers, aerospace lighting original equipment manufacturers (OEMs), the Federal Aviation Administration (FAA), and consultants.
Members are divided among three sub-committees:
A-20A, Crew Station Lighting
A-20B, Exterior Lighting
A-20C, Interior Lighting
They work in a collaborative environment and discuss industry trends, best practices, safety concerns, and the future of aerospace lighting. And the future, at this moment, is LEDs.
Since their debut, the aerospace industry has readily adopted LED technologies for interior lighting. Their adoption continues to accelerate; the commercial aircraft lighting market is expected to grow by 5% between 2014 and 2020. Much of this growth is attributed to the transition of exterior aircraft lighting to LEDs. Lighting manufacturers are striving to incorporate lighter, more efficient technologies into their designs.
Before any new technology is adopted, safety must be considered; this is especially true in the aerospace industry. New products and lighting installations must meet demanding performance requirements as well as stringent safety specifications. SAE fosters a community that strives to create a common understanding of the industry's performance, quality, and safety requirements. They act on these needs and coordinate the development of technical standards and guidance documents to assist lighting engineers who are developing new lighting products. SAE International develops three types of guidance documents to aid lighting engineers:
Aerospace Information Report (AIR): These documents contain generally accepted engineering data and information that should be considered for new product designs.
Aerospace Recommended Practice (ARP): These publications are recommended, but not required. However, those looking to facilitate market adoption; satisfy important safety requirements; or to help differentiate their products, should highly consider adhering to them. "ARP documents give dimensional design and/or performance recommendations intended as guides for standard engineering."
Aerospace Standard (AS): Lighting products must adhere to Aerospace Standards to be considered airworthy.
The SAE A-20 Aircraft Lighting committee reviews and revises these documents on a five year schedule to ensure that they are still technically accurate; relevant to industry's needs; and incorporate the latest technologies. This ensures that lighting engineers have access to the best engineering information available. This reduces product development time and ensures that they're creating airworthy products that fulfill the aerospace industry's lighting needs.
SAE A-20: 2014 Publications
Revisions to SAE publications can be minor or there can be critical additions and revisions. When designing new lighting products, it's important to stay abreast of applicable standards and their latest publication, so that you are using the most current engineering information and best practices. 2014 was a busy year for the A-20 committee, after many months of discussion and improvements, ten documents were approved for publication. Below is a list of the ARPs, AS', and AIRs that were published in 2014.
Date: 01/08/14
"This specification covers the installation of aircraft interior lighting."
Date: 01/08/14
"This SAE Recommended Practice (ARP) provides the user with standardized guidelines for the measurement of effective intensity of strobe anticollision lights for aircraft in the laboratory, in maintenance facilities, and in the field. This document recommends the test methods and equipment necessary to perform photometric measurements used to determine the effective intensity of red and white strobe type anticollision lights for aircraft."
Date: 01/08/14
"This document covers the general recommendations for cabin lighting in order to provide satisfactory illumination for,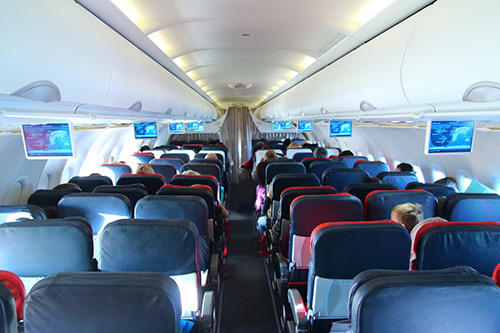 but not limited to: a. Boarding and deplaning; b. Movement about the cabin; c. Reading; d. Use of lavatories; e. Use of work areas; f. Exiting under emergency conditions; g. Using stowage compartments, coat rooms, and closets; h. Using interior stairways and elevators (lifts)."
Date: 04/04/14
"This SAE Aerospace Recommend Practice (ARP) is intended to recommend safety related best practices when using metal halides high intensity discharge (HID) lamps and power supplies in aircraft applications." Updates to this publication include additional information related to HID explosion proofness and outgassing."
Date: 04/15/14
"This document establishes minimum performance levels for aircraft cargo compartment lights. Information contained herein has been expanded from ARP1283A in the areas of measurement conditions, lumen maintenance, and the inclusion of specific information relative to the use of Light Emitting Diodes and High Intensity Discharge Light source technologies."
Date: 05/02/14
"The SAE Aerospace Recommended Practice (ARP) contains methods used to measure the optical performance of airborne flat panel display (FPD) systems. The methods described are specific to the direct view, liquid crystal matrix (x-y addressable) display technology used on aircraft flight decks. The focus of this document is on active matrix, liquid crystal displays (LCD), however, the majority of the procedures can be applied to other display technologies."
Date: 05/30/14
"The scope of this Aerospace Information Report (AIR) is to discuss factors affecting visibility of aircraft navigation and anticollision lights, enabling those concerned with their use to have a better technical understanding of such factors, and to aid in exercising appropriate judgment in the many possible flight eventualities."
Date: 07/12/14
"This document defines the method for voltage identification by use of color coded insulators at the base of the lamp. Table 1 shows lamp part numbers and corresponding insulator colors. Insulator colors are to be easily distinguishable as red, yellow, and green. Tables 2 and 3 show complete descriptions of the lamps involved for the T1-3/4 and T1 lamps respectively. New lamp part numbers may be added by a revision process as required."
Date: 10/10/14
"This document recommends criteria for the lighting systems and visual interface required of flight deck areas, controls, and displays. This document defines the recommended design and performance requirements for: integrally lighted instruments, integrally lighted information panels (light plates), circuit breaker panel lighting, warning, caution and advisory indicator lights, and general and utility lighting."
Publication updated to improve the technical requirements and to provide design recommendations for flight deck lighting to ensure accurate readability and visibility in all environmental conditions.
Date: 12/2/14
"This SAE Aerospace Standard (AS) will specify what type night vision goggles are required, minimum requirements for compatible crew station lighting, aircraft exterior lighting such as anticollision lights and position/navigation lights that are "NVG compatible."
Our Involvement with SAE
For more than a decade, our employees have been active members of SAE A-20. We've contributed our technical glass and lighting expertise to many publications and we've sponsored several publications that focus on the importance of glass performance.
In 2013, we sponsored ARP 924, "Specification and Inspection of Glass for Integrally Lighted Aerospace Instruments" which defines quality standards for cover glass that is used in aerospace instruments. With decades of experience manufacturing technical glass, we were able to recommend standard inspection methods and help determine suitable quality standards for optimal performance.
Gain Access to Collective Industry Knowledge
These standards provide a comprehensive foundation for engineers working in the aerospace lighting industry and are a valuable resource for new product development efforts. They represent the collective expertise of industry leaders and subject matter experts. Participation in SAE International and their publications provides you with insight into new lighting trends and their impact on current and future lighting designs.
Like LEDs, new technologies will continue to infiltrate the aerospace lighting industry and it's important to understand how the adoption of new technologies impacts safety and performance.
We encourage you to join SAE International or to at least stay abreast of the latest news and publications. Access to this information will make you more efficient and help you reduce the product development cycle, getting you to market faster. We'll be featuring new and revised standards on our blog as they are released. Stay tuned.