Total global air travel is increasing year-over-year; in 2014 air travel demand grew by 5.9% compared to 2013 and it has continued to grow through 2015. A substantial transportation infrastructure is necessary to support the growing number of air travelers worldwide.
Airports around the world recognize that to increase capacity and to remain competitive, they must adopt new technologies that ensure a safe and efficient atmosphere for customers and crew alike.  LED lighting and asset management software and monitoring tools reduce energy and maintenance costs and enable airports to transport people safely.  These topics, among many, were discussed at the most recent IESALC technology meeting, which was held in Denver, Colorado.
IESALC is a committee of the Illumination Engineering Society (IES) of North America that is dedicated to fostering the growth of lighting knowledge and technology as it relates to aircraft ground operations.  This year, approximately 300 people attended the meeting and represented various segments of the airfield lighting value chain and lighting support system. The technical meeting, which occurs every fall, offers an opportunity for attendees to discuss and to share the latest technologies, industry trends, and best practices.  It also allows for the exchange of ideas and provides the opportunity to identify new technologies and solutions for upcoming projects.  The format of the meeting consists of an FAA meeting, presentations of technical papers, a tradeshow, and several networking opportunities.
New Research and Technologies to Improve Safety
The continued and improved safety of passengers, airport personnel, and support staff, remains a top priority for airport operators.  Throughout the conference, the importance of creating and maintaining a culture based on safety was emphasized, as well as the need to conduct thorough safety training and to properly use personal protective equipment.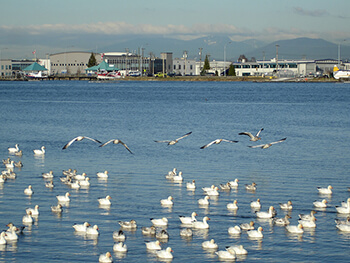 On the topic of flight safety, one area that is gaining more attention is the risks posed by bird strikes. You may be familiar with the bird strike that occurred just a few years ago; upon take-off, US Airways Flight 1549 struck a gaggle of Canada geese. Both jet engines quickly lost power and the pilot, Captain Chesley B. Sullenberger, had to make an emergency landing in the Hudson River. Luckily in that instance, no causalities occurred.
At IESALC, it was reported that there are 2.1 bird strikes per 10,000 aircraft moments.  Data shows that 74% of bird strikes occur below 500 feet and that damage is driven by the speed of the aircraft.  Additionally, it was mentioned that Airbus reports that approximately 50% of engine bird strikes cause damage.
In response to this risk, Donald Ronning, President of Light Enterprises, shared recent research and potential measures that could be taken to prevent bird strikes. Unlike humans—who can only see visible light, such as red, green, and blue—birds can also see ultraviolet (UV) light.  Moreover, while birds have excellent acuity, their eyes do not perceive contrast well.  This information led to the investigation of the use of short pulses of UV light to distract and deter birds away from aircraft and airfields.  While everyone is familiar with using visible light for safety and lighting purposes on runway and taxiways, the identification of UV light as a potential deterrent to birds could offer new product opportunities for lighting manufacturers.
Airport Reputation is Critical to Economic Growth
Airports contribute significantly to the economic health of a city or region; as air travel increases, it is important for airports to be responsive to this growing volume and to be proactive in managing their reputation.
As airlines have consolidated at fewer larger hubs, it becomes increasingly difficult to manage the volume of air traffic—and increasingly harder to ensure a pleasant customer experience. Airlines want to get in and out of an airport on time without any issues.  On time arrivals and departures enhance the customer experience and motivate the customer to fly with that airline again.  Freight carriers must also meet strict customer requirements and prefer airports where their shipments can get in and out on time. The better the reputation of the airport, the more attractive it is to airlines, which can then improve the economic health of a city.
LED lighting for airfield and apron lighting is one way that lighting original equipment manufacturers are helping airports improve their reputation. In addition to playing a crucial role in efficiently and effectively guiding aircraft to the runway or terminal, LED fixtures offer lower maintenance costs and energy savings.  This helps the airport contain costs and as a result, the may be able to offer airlines reduced landing fees.
Of course, Mother Nature plays a significant role in the effectiveness of airport operations. Citing research from the FAA Operations Network (OPSNET) and the Congressional Joint Economic Committee, it was shared that 70% of air traffic delays and cancellations within the U.S. National Airspace System are caused by weather. In 2007, it was determined that weather-related delays contributed $28 billion to airport operating costs per year.  In addition to the extra costs, poor weather leads to delayed, rerouted, or canceled flights, which can decrease customer satisfaction.  These types of weather circumstances highlight the need for better lighting, as well as other technologies that would enable more air traffic to operate in adverse weather conditions.
While enhanced flight vision systems (EFVS) are only needed during severe inclement weather, there is a continued interest and investigation into adopting this technology.  Fed-Ex and several business jet manufacturers currently use EFVS, but commercial airlines are still evaluating it and have yet to adopt it. Instead of EFVS, many are considering heads-up display (HUD) technologies as an alternative.
Interconnectivity and the Use of Asset Management Software
As airfield lighting technology advances so has the integration of control and monitoring functionality of the lighting systems.  New technology is being developed to allow lighting fixtures to communicate with one another and to assist in the monitoring of its operation, performance, and maintenance requirements.  We have observed a growing trend of traditional vault-centric fixtures shifting to fixture-centric lighting fixtures.
To comply with FAA advisory circulars, such as AC 150/5340-26C – Maintenance of Airport Visual Aid Facilities, airports are starting to use software that helps them with preventive maintenance and asset management efforts. Maintenance software, such as IBM Maximo Asset Management, relieves some of the burdens of the maintenance staff and reduces the effort that is required to monitor usage, generate work orders, and retain required records.
The use of integrated technology and software will enable airport operators and maintenance managers to use their resources more efficiently, thus driving down overall operating expenses while continuing to ensure aircraft traffic is handled safely and efficiently.
FAA Update
During the first day of the technical meeting, the FAA discussed LEDs, recent research they conducted, and the engineering briefs (EB) and advisory circulars (AC) that they are developing or revising.  The primary message from the FAA was that LEDs are safe.  While some concern has been expressed about the brightness of LEDs, it was stated that out of 150,000 reports that the FAA received, only 20 had to deal with LEDs.  As LED technology continues to advance and develop, the FAA will continue to monitor and investigate the impact LEDs have on safety in the airspace.
During the FAA meeting, Tom Mai, from the FAA's Office of Safety and Standards, provided information on ACs and EBs that were reviewed and updated by the FAA in 2015.  AC 150/5345-46E Draft Specification for Runway and Taxiway Light Fixtures was one document recently updated. In addition to discussing what was updated in 2015, Tom mentioned that AC 150/5345-43H, Specification for Obstruction Lighting Equipment, will be updated in 2016.  Obstruction lighting manufacturers will want to take note that the draft will include relevant requirements as they are indicated in AC 70/7460-1L, which changes the requirements of flashing L-810 lights.
The IESALC technical meeting continues to be a premier event for the airfield lighting community.  The event offers the opportunity to exchange ideas, to learn about new trends, to network, and to learn about document changes that may affect a manufacturer's ability to provide lighting solutions. While we have covered some of the highlights of the technical meeting above, other topics regarding airfield lighting were also discussed and countless networking opportunities provided. If you are interested in learning more about IESALC, please visit their website. If you cannot make it to the technical meeting, which only occurs once a year, IESALC also holds an FAA Government Contacts meeting each spring in Washington, DC.