In a few weeks, lighting designers seeking to enhance their technical skills and looking for the newest gear will head to Live Design International in Las Vegas, NV. Learn more about the exhibit, Kopp Glass' UV filters and Fresnel lenses, and premier training opportunities available at the conference.
Every year, millions of people flock to concert venues seeking an amazing and memorable experience. Smoke. Fire. Lights pulsating in rhythm to the beat. Mesmerizing lighting displays require considerable skill to execute successfully. This fall, lighting designers seeking to create performances that captivate audiences will be heading to Live Design International (LDI).
Held in Las Vegas, Nevada, LDI is the leading tradeshow and conference for live design professionals. Beginning October 17, more than 12,000 attendees will have the opportunity to take part in numerous training sessions during the week-long conference. Those looking for the latest technologies and gear will explore the expansive exhibit hall.
Explore the Latest Gear in the LDI Exhibit Hall
More than 350 exhibitors pack the LDI exhibit hall displaying the gear you need to bring your lighting design to the next level. Be sure to visit the exhibit hall for the latest products and gear, including new consoles, connectivity devices, software, rigging and hoists, and new LED lights. Or attend one of the many live product demos and get first-hand experience testing new technologies.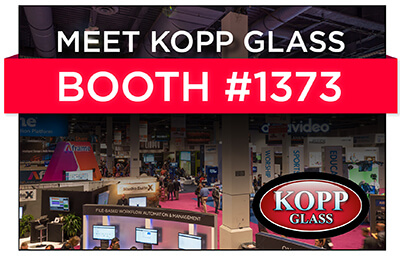 Before you head to LDI, check out the new products that lighting manufacturers will be featuring on the exhibit floor.  Live Design Online put together a collection of new lighting product demo videos, including several that feature new LED lights. Or check out the LDI Twitter feed for the latest news about the event.
We have exciting news too—we'll be participating in this year's exhibit. For more than 50 years, Kopp Glass has designed glass lenses that shape and refine light for theatrical and stage lighting applications. We're eager to share our glass lenses and optical design expertise with you at the tradeshow.
Our molded glass lenses are ideal for lighting designers seeking to create stunning lighting displays. High-quality lighting elevates a performance to new heights and is dependent on the lenses you use to control light.
You can visit us at LDI 2016 in booth #1373. But before you go, learn a little more about our Fresnel and roundel glass lenses, UV filters, and LED design capabilities.
 Fresnel and Roundel Glass Lenses
Our glass Fresnel lenses create beautiful, soft-edged beams of light. As LEDs gain wider adoption, you need lenses that create the same quality of light as conventional sources. Our optical engineers can design custom Fresnel lenses for both conventional and LED light sources.
Our Fresnel and roundel lenses are available in standard sizes as part of our stock catalog. Or if you need something unique, we can create custom lenses. We specialize in custom, small lot glass manufacturing, and have the capability to mold lenses that range from two to 24 inches. Custom stipple patterns and surface finishes create the high-quality light you desire, including high output, uniform light patterns, and soft edges. If you want to create exceptional lighting products, collaborate with us to design custom molded glass lenses.
Molded from durable borosilicate glass, our lenses can stand up to the most demanding lighting applications and environments and still deliver exceptional results. Intense heat and fluctuating temperatures won't break or damage our glass lenses. And unlike plastic, UV exposure won't yellow glass.
UV Glass Lenses
Create brilliant blacklight effects with our UV glass filters. Our portfolio includes 16 glass compositions that provide high UV transmission. They also absorb visible light so that it doesn't distract viewers.
Our UV glasses are intrinsically colored, which means their ability to transmit or block light is not dependent on a fragile coating. Unlike dichroic filters, our UV glass filters won't degrade or suffer transmission losses when exposed to UV light.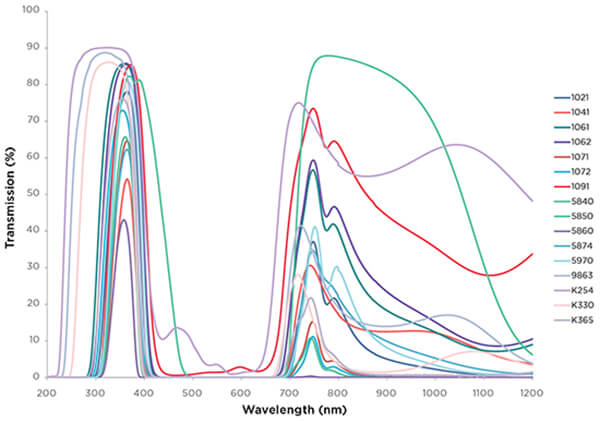 LED Lighting Design
LED adoption is well under way within the live design industry, as shown by the many LED courses and presentations at LDI. However, LEDs produce light differently compared to conventional light sources. They present a steep learning curve for many designers.
The same light quality from a conventional source can be difficult to create with an LED.
We have more than ten years of experience developing custom glass solutions for LED light sources. Our LED lenses are designed to produce high-quality light patterns comparable to conventional light sources and are also maximized for LED cost and efficiency.
Enhance Your Technical Skills
LDI offers a comprehensive training program with plenty of opportunities to learn the latest technologies. Attendees get access to the brightest minds in the live design industry. Each year, the conference gets better with new courses and training opportunities.
LDIntensive
New this year, the LDIntensive program provides in-depth training for those seeking to build and refine their skills. The program consists of a mix of courses focused on audio, lighting, projection, Ethernet, and technical direction.
Also included in the LDIntensive, is the Envision Symposium, which explores the future of lighting. The symposium speakers explore questions like:
"What is the next disruptive lighting technology?
How does the Internet of Things play a role in lighting?
What are the protocols beyond DMX?
How to light using solely LEDs."
LDInnovation
Stay up-to-date on the latest industry trends and issues facing designers within the live design industry.The Lighting Summit features courses on the latest lighting technologies. Also included are practical examples of how to design quality lighting for a variety of applications. A special panel examines the challenges of designing with LEDs. Experts share solutions for designers working with this new technology.
LDInstitute
Skip the lecture. For those who desire hands-on training, the LDInstitute is for you. It's considered by many to be the most comprehensive training available to professionals in the live design industry. Attendees will have the opportunity to roll up their sleeves and hone their technical skills using real equipment and scenarios.
Meet Our Team
If you're attending LDI, be sure to visit us in booth #1373. Our sales specialists and engineering experts will be available to discuss how we can help you achieve your goals on your newest lighting project.