In response to growing industry demand, we have expanded our ultraviolet (UV) filter glass product line. We're excited to share with you five new ultraviolet (UV) bandpass filter glasses; 1072, 1021, 1061, 1062, and 1091.
These filter glasses can easily be substituted into your existing product specifications. They all have high transmittance in the UV-A region and in some cases the UV-B as well. In addition, these new glasses have been engineered for absorption in the visible and/or IR regions.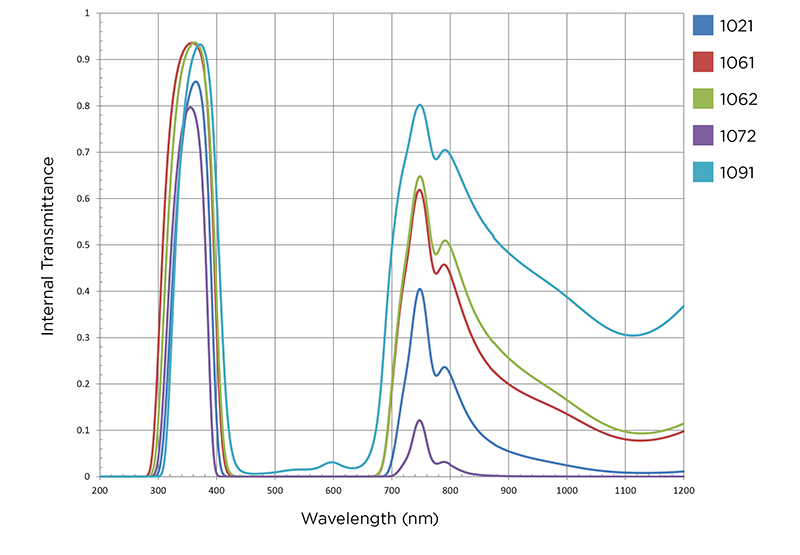 Borosilicate filter glass is often preferred for harsh, demanding applications due to its superior durability and resistance to abrasion, chemical corrosion, and thermal shock. Our UV filter glasses can be tempered to further improve mechanical durability and thermal shock resistance. This is especially important for applications which can generate intense heat, like UV curing systems, nondestructive testing devices, and theatrical black lights.
Heading to Photonics West next week? Stop by booth #136 to learn more about these new UV filter glasses. Our Research and Engineering Manager, Adam Willsey, will be at the booth and is available to discuss your specific requirements.
Flexible Volumes – Reliable Supply
For over 40 years we've been a reliable manufacturer of colored filter glass. Our integrated and scalable manufacturing capabilities allow us to offer flexible order volumes and quick turnarounds. On any given day, we have up to 15 different glass compositions in melt. This means that you don't have to wait months to receive your glass.
Our new UV bandpass filter glass is immediately available. If you're eager to learn more or need glass now, talk with one of our Sales Specialists. They will be able to help you select the glass that best suits your application. If you need a modified or custom UV glass, our Research and Engineering team can work with you to develop a custom formulation to meet specific transmission, chromaticity, or thermal expansion requirements.
Not quite ready for a quotation? Download our spectral data sheets for our entire UV filter glass product line. With over 20 different glasses, we have one of the largest UV filter glass portfolios on the market and the addition of these five glasses makes it even more diverse.
Click here to learn about our UV glass offerings.