Next week, 20,000 people will converge on San Francisco, CA to attend SPIE Photonics West 2016. As the largest laser, photonics, and biomedical optics conference in North America, Photonics West is the place to learn about the latest research, innovations, and products available to the optics and photonics community.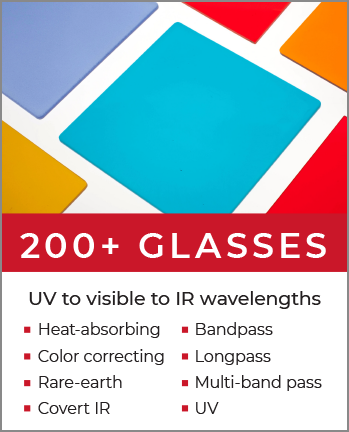 Photonics West kicks off with the BiOS symposium on February 13 and is followed by the OPTO and LASE symposia, starting on February 15. Over the course of the week, more than 4800 presentations will be given, with topics spanning neurophotonics to photonic-crystal fibers to ultrafast lasers. We're pleased to announce that on Monday, February 15, we will give a paper presentation that discusses the development of a UV transmitting glass formulation and secondary linear optic for UV LED arrays.
If you can't make it to our presentation, be sure to stop by our booth to learn more about our study and our new UV longpass filter glasses. We'll be in the North Hall, booth #5332; our expansive filter glass catalog will be on display, which includes filter glasses that span the UV to visible to IR spectrum.
Read on to learn more about our activities at Photonics West; we hope to see you in San Francisco.
OPTO Symposium Highlights
Researchers continue to build off the successes achieved with visible LEDs and focus on creating high-performance UV LEDs. Great success has already been realized with UV-A LEDs, as the wavelengths are closer to visible LEDs.  But additional research is needed to improve the performance of UV-B and UV-C LEDs. Photonics West is the forum that many researchers choose to present and discuss their findings.
A look at the OPTO symposium demonstrates the high level of interest in UV LEDs. The sessions "Gallium Nitride Materials and Devices XI" and "Light-Emitting Diodes: Materials, Devices, and Applications for Solid State Lighting XX" present the latest research and development in the creation of high-performing LEDs. Interesting papers on UV LEDs include:
Development of AlGaN-based UVC emitters Advances in AlGaN-based deep UV LED technologies
Advances in AlGaN-based deep UV LED technologies
Realization of high-performance AlGaN-based UV emitters and photodetectors
This increased level of interest is also evident on the Photonics West exhibit floor. Many new products that use UV LED technology will make their debut next week:
Development of 3 New UV Longpass Filter Glasses
In response to the growing interest in UV LEDs, we developed three proprietary UV transmitting longpass filter glasses. These clear UV glasses have tailored cut-on wavelengths that range from 200 nm to 400 nm, and they exhibit high transmission that is comparable to fused quartz and silica.
These three new glasses are a welcome addition to our already expansive UV glass portfolio. With more than 20 glass compositions, our portfolio includes glasses that both transmit and block visible light. These new glasses, as well as our entire UV glass product line, will be featured in our booth, #5332.
UV Transmitting Glass Optic Research
Technical Presentation
As discussed above, UV LED adoption is accelerating; they are being used in new applications such as UV curing, germicidal irradiation, medical phototherapy, sensing, and non-destructive testing. In many of these applications, it is critically important to generate a uniform light distribution and consistent surface irradiance.
We conducted an investigation to determine the effect of a secondary glass optic on the uniformity of the light distribution and irradiance. Glass optics capable of transmitting UV-A, UV-B, and UV-C wavelengths can improve light distribution and intensity. In this study, a secondary linear optic was designed to demonstrate its effects on achievable irradiance intensity and uniformity.  We manufactured this optic using one of our new UV transmitting longpass glass formulations mentioned above. A 20% increase in relative irradiance was observed while maintaining the same coverage area.
Brian Jasenak will discuss the results of this study at our Photonics West paper presentation "Investigation of light output uniformity and performance, using a UV transmitting glass optic for multi-UV LED array," on Monday, February 15, at 3:00 PM.
His paper will review the optical design and the resulting benefits of controlled light output on UV LED systems, which include reduced driving current, decreased thermal deterioration, improved energy efficiency, and longer LED lifetime.
Product Demo
If you're unable to attend our technical presentation on Monday, don't worry, you can catch highlights at our product demo. On Thursday, February 18 at 2:30 PM, Kopp will present the product demo "UV-A, B, and C Transmitting Glass Optic for UV LED Arrays." Her presentation will discuss the development of our new UV glass compositions and highlights from our UV optic case study.
Meet Us At Our Exhibition
Each year, the exhibition at Photonics West grows; there are countless innovative products on display. Whether you're interested in ultrafast lasers, sensors, optics, cameras, or spectrometers, Photonics West is sure to have a diverse mix of products to explore.
We're excited to participate in the Photonics West exhibition for another year; you can find us in the North Hall, booth #5332. We'll have our expansive filter glass portfolio on display, which includes glass compositions that span the UV to visible to IR spectrum. Our team of Sales Specialists and Glass Engineers will be available to discuss your requirements, and they can help you select the glass that best suits your application.
If you're interested in learning more about our new UV glasses; be sure to visit our booth. We'll have information about these glasses available and can show you a demonstration of our new UV longpass glass filters.
---