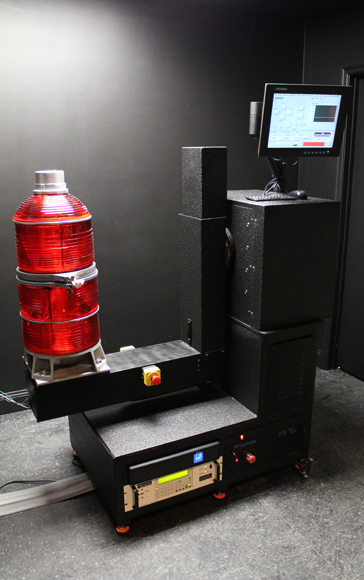 We recently installed a state-of-the-art goniophotometer in our photometric testing lab. This installation is a continuation of a major capital improvement program that began over a year ago. While our focus on continuous improvement was the main driver for this upgrade, we also wanted to invest in a photometric testing system that would meet the increasing testing challenges of our current and future customer's lighting fixtures.
The goniophotometer was custom designed to incorporate flexibility into the testing process between aerospace and airfield lighting requirements. The overall goal of the design was to make the testing procedure more efficient while guaranteeing accurate photometric results and compliance with rigid FAA and ICAO lens specifications.
"Customers depend on our ability to provide high quality glass products that will meet tough photometric requirements. The Sapphire goniophotometer will facilitate the testing process so that necessary tests are performed in an efficient and precise manner and promote more efficient exchange of test data with our customers." - Jim Forish, Quality Manager
Sapphire Technical Solutions is an ISO-17025 accredited photometric, radiometric and power efficiency testing service as well as an equipment manufacturer that has been supporting the aerospace, automotive, and commercial lighting industries for many years. The majority of lenses we test are for complex aerospace and airfield lighting applications, because of this, we decided to choose Sapphire for their technical excellence and extensive experience in these arenas.
Learn more about our research and engineering capabilities here.