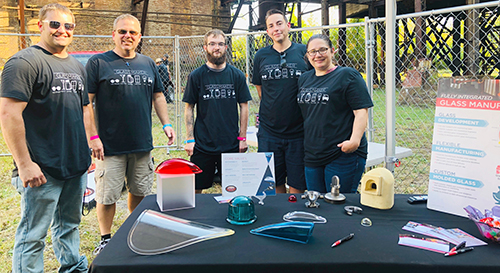 Kopp Glass was proud to present our glassmaking expertise at the Festival of Combustion in Pittsburgh, PA on Saturday, September 28th. We joined our fellow Pittsburghers at Carrie Furnaces for the day to celebrate the creativity of Pittsburgh's makers, builders and artists.
Our team of innovators and glassmakers told the story of how we collaborate with our customers to solve complex engineering challenges. Our high-performance glass solutions are sought out for use in mission-critical applications with strenuous requirements. That's why you'll find them being implemented on both the interior and exterior of military jets to safely guide pilots or being used in medical devices to effectively direct and transmit specific wavelengths of light to treat patients.  We manufacture products that few in the world can. The performance of our products and the difference that they make in the world defines who we are. We were proud to share that identity at the festival.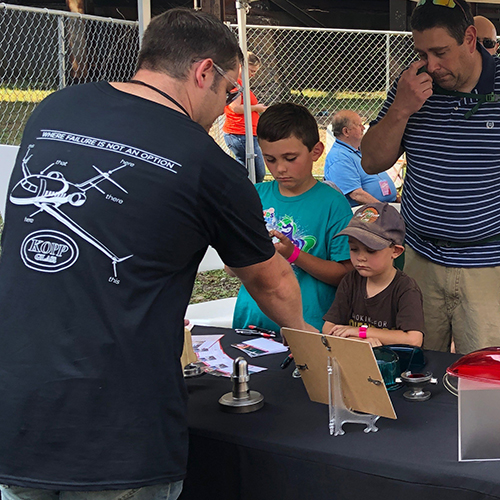 In addition to glassmaking, the festival featured other industrial trades—iron casting, blacksmithing, welding, mosaics, and ceramics. Participants like the US steelworkers and our glass-blowing friends at the Pittsburgh Glass Center demonstrated their crafts. In blazing feats of mechanical skill, molten glass, steel, and iron were shaped.   
Our team played trivia with event attendees and discussed our 90-year history in Pittsburgh. While our products are used worldwide—in aircrafts high above the earth and machinery deep below the ground—this event offered the opportunity to invigorate our local roots. Pittsburgh's atmosphere of grit and hard work was the backdrop for Kopp's original formation and growth. We are still grounded by those values. The festival reminded us of where we came from and how we can use that ingenuity to keep moving forward. 
Thank you to Rivers of Steel for organizing a great event.
For more information about Kopp's history and expertise in glassmaking, click here.