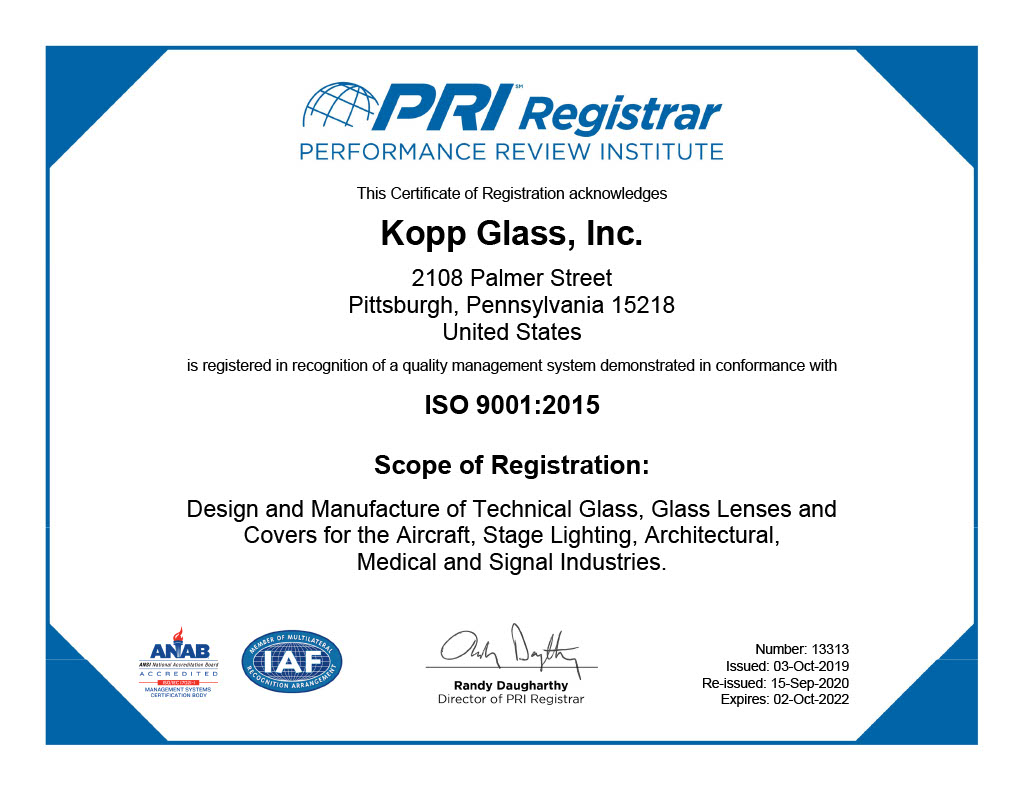 Upon completion of an extensive evaluation and audit, Kopp Glass, Inc. renewed certification under the globally recognized ISO 9001:2015 standard for Quality Management Systems (QMS). Replacing the fourth edition (ISO 9001:2008), the new fifth edition ISO 9001:2015 stipulates more demanding criteria with focus on risk-based thinking, leadership involvement and customer centricity. Kopp has been a recognized industry leader and pioneer in glass manufacturing for nearly a century. Achieving the ISO 9001:2015 certification was essential to increase the value Kopp provides to current and prospective customers, extending beyond tangible products. Undergoing the rigorous certification and audit process demonstrates Kopp's adherence to industry recognized standards while working to push the limits of manufacturing to help solve their customers toughest challenges.
"Our customers depend on our deep expertise in glassmaking and the agility of a highly complex production process to accelerate the design, development and consistent delivery of innovative, high-performance custom glass products that are used in mission-critical applications—where failure is not an option," said Rachel D. Willsey, President and CEO of Kopp. "Our move to achieve certification renewal to the ISO 9001:2015 standard demonstrates our company-wide commitment to deliver more value to the customer, performance at the highest levels of quality and efficiency, our relentless focus to enhance customer satisfaction, and our culture of continuous improvement."
Kopp achieved ISO 9001: 2015 Certification on October 3, 2019 and has held ISO certifications for nine consecutive years.
---