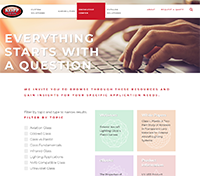 We are thrilled to share our new Knowledge Center with you. Whether you're a designer new to working with glass or an experienced engineer needing material property specifics, or somewhere in-between, our Knowledge Center has resources that will make your job easier.
This library of industry-leading resources is a central hub for white papers, webinars, spec sheets, presentations, and other content curated by our glass experts. Think of it as the ultimate, expert source for guidance in developing high-performance custom glass solutions for mission-critical applications.
Bookmark our Knowledge Center now!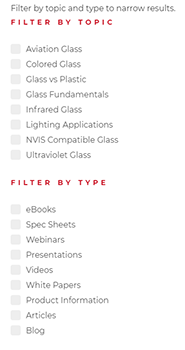 Exciting features include:
New content added frequently on topics like glass material science, applications engineering, and industry-expertise.
Resources are filterable by topic area and type of content. Just check off what topics or formats you're interested in seeing.
Have any questions, or suggestions for the Knowledge Center? Let us know here.