Improvements to UV LED technology is accelerating their adoption into an increasing number of markets. They are being used and considered for many applications, such as UV curing, medical phototherapy, sensing, non-destructive testing, fluorescence microscopy, and even UV sterilization.
In many of these applications, the light source needs to be protected or optimized with a UV transmitting transparent window. In response to the growth of UV technologies and applications, we developed three proprietary glass compositions that offer high transmission across the UV and visible spectrum. We're pleased to share with you three new UV longpass filter glasses: 9530, 9550, and 9570.
These clear UV glasses have tailored cut-on wavelengths that range from 200 nm to 400 nm, and they exhibit high transmission that is comparable to fused quartz and silica. To learn more about these glasses, download their spec sheets.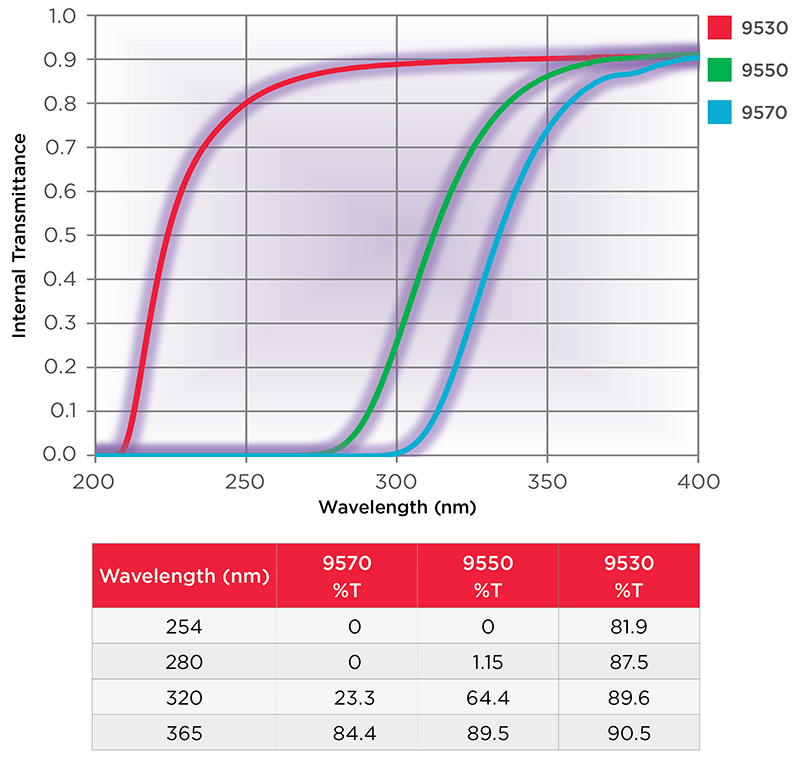 These three new glasses are a welcome addition to our already expansive UV glass portfolio. With more than 20 glass compositions, our portfolio includes glasses that both transmit and block visible light. Our UV bandpass glasses appear nearly black and absorb visible radiation while offering high transmission in the UV-A, -B, and –C regions. In contrast, our clear UV longpass filters provide high transmission across both the visible and UV spectrum. In harsh, demanding applications, our glasses are preferred due to their superior durability and resistance to abrasion, chemical corrosion, and thermal shock.
To learn more about our portfolio, browse our UV longpass and UV bandpass filter glass catalog. You can compare compositions and find one that meets your specific spectral requirements.
Molded UV Transmitting Glass Optics
Flat windows of fused quartz, silica, or other glasses are commonly used in UV lighting systems. Our new UV glasses exhibit similar optical properties compared to other transparent materials, such as quartz and fused silica. However, unlike fused quartz, our new UV transmitting glass can be easily molded into custom UV transmitting glass optics.
Secondary UV transmitting glass optics can improve UV LED light distribution uniformity and increase irradiance. In recent studies, we have demonstrated that UV glass optics can increase irradiance by up to 20%. Maximizing UV LED performance has many benefits on the UV LED system, including reduced driving current, decreased thermal deterioration, improved energy efficiency, and longer LED lifetime.
Flat quartz windows or covers may protect the light source or UV LED array, but they don't provide any optical advantage. We're able to mold complex glass shapes without relying on expensive fabrication or machining. Our glasses provide a more affordable UV transmitting solution than fabricating other common UV materials while also enhancing UV LED light output.
Collaborative UV Lighting Design
Compared to other light sources, UV LEDs can be expensive and often contribute most of the cost to a lighting system. Optics can be used to improve irradiance and light distribution uniformity, which as a result, may allow you to reduce the number of LEDs, decrease their drive current, and ultimately lower the overall cost of the light fixture.
Whether you are designing a new UV LED array or seeking to optimize an existing system, we can help you create high-performance UV light fixtures. As a fully integrated manufacturer, we have the capability to assist you at multiple stages, from initial LED characterization and selection to optical design to final glass development and production. Depending on your product development phase, we can help you with:
LED characterization
Optical design and simulation
Array simulation and measurement
Glass development and customization
Learn More About These Glasses
If you're heading to Photonics West later this month, stop by booth #5332 to learn more about our new UV filter glasses and our entire UV glass portfolio. Members of our engineering team will be available to discuss your specific requirements.
If you can't make it to Photonics West or if you would like more information now, download the spectral data sheets for these new glasses. Our team of Sales Specialists and Glass Engineers are available to discuss your requirements; they will be able to help you select the glass that best suits your application. If you need a modified or custom UV glass, our Research and Engineering team can work with you to develop a custom formulation to meet specific transmission, chromaticity, or thermal expansion requirements.