CUSTOM GLASS MANUFACTURING
Collaboration with our design experts accelerates product development allowing you to bring products to market faster. Our integrated manufacturing facility is able to support you at every development stage. Together we develop a solution that marries our glass engineering capabilities and precision molding expertise to your innovative idea.


RESEARCH & ENGINEERING
We provide comprehensive solutions through industry leading research and engineering capabilities. Our team of optical, material, and glass engineers is backed by highly sophisticated equipment and the most talented craftsmen in the world. Work with our engineers to:
Formulate custom glass compositions
Design optical lenses for LED and other emerging light source technologies
Measure and test glass physical and optical properties
NEW UV BANDPASS FILTERS
We've expanded our ultraviolet (UV) filter glass product line. Our new UV bandpass filters have high transmittance in the UV-A region and some in the UV-B.
FILTER GLASS PORTFOLIO
We offer the largest portfolio of filter glass compositions available on the market with over 200 active filter glasses that feature transmission properties from the UV to visible to IR wavelengths. Learn more about our filter glass: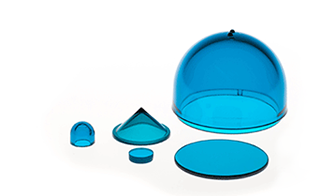 FILTER GLASS SPECTRAL CALCULATOR
Use our spectral calculator to select the right filter glass for your application and to calculate transmittance data at specific wavelengths. Because our manufacturing process can produce unique shapes and thicknesses, this calculator allows you to adjust the thickness based on your requirement.

FILTER GLASS

LOCATOR

Need help finding a filter glass to meet your needs? Use our search tool to locate glasses by composition number, industry equivalent number, or wavelength.